UPCOMING EVENTS:
———————————————————————————————————————-
Graduate School Panel 
The subunit held our first graduate school panel on December 5th for undergraduate students considering furthering their education! Our panelist offered great advise on how they found success and shared their experiences in grad school. Huge thank you to all the panelists, Sean, Annelise, and Ellie!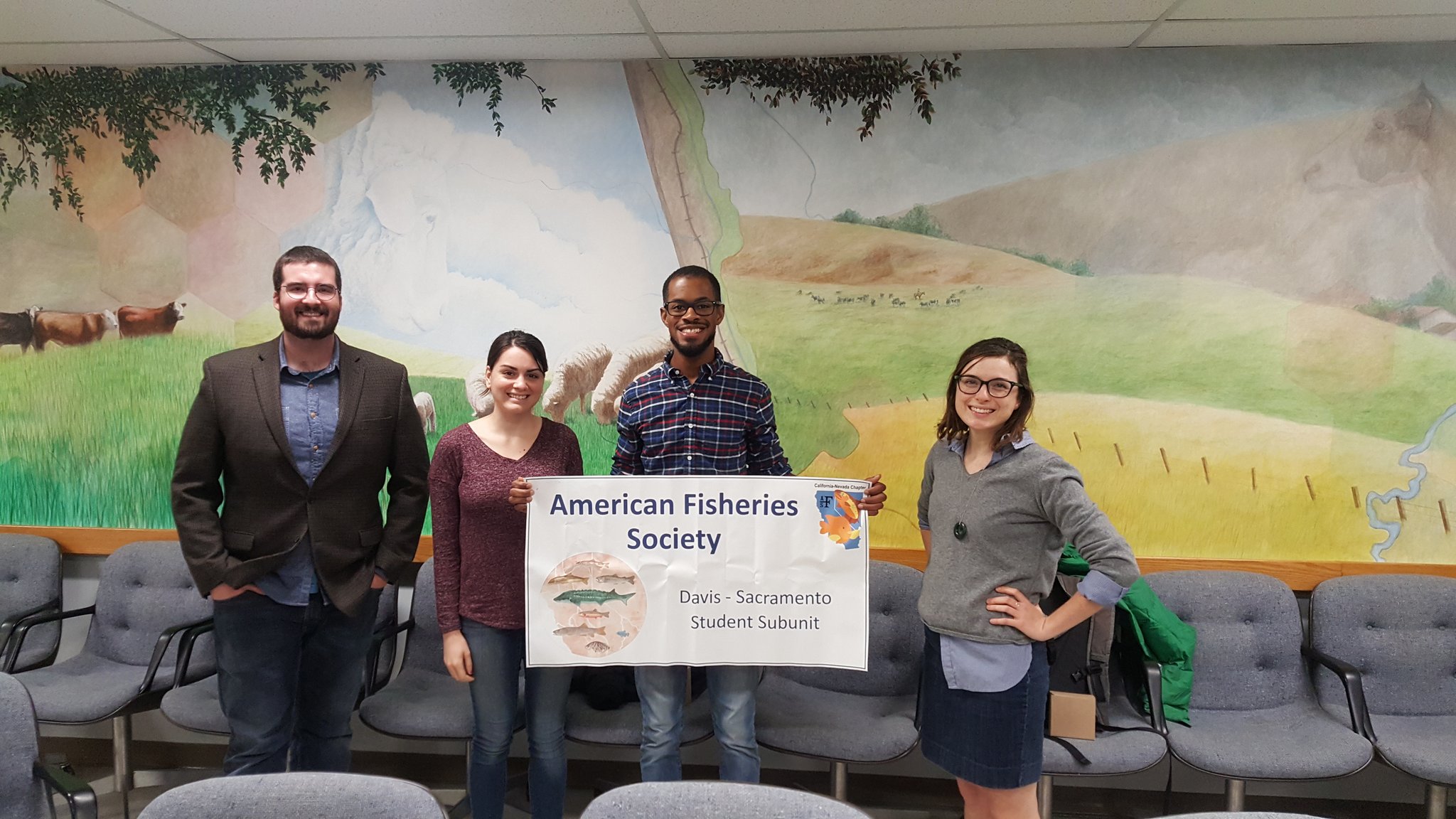 Western Division Student Colloquium 2018 
Our student subunit got the chance to head up to Corbett, Oregon from November 15th to 18th to learn more about fisheries research alongside fellow students from the western region. The weekend was packed with fun, information activities including an infographics workshop taught by Su Kim, a visual information specialist with NOAA. This hands-on workshop helped students create informative and engaging graphics in order to easily spread their scientific message. We have a talented group of science communicators within the Cal-Neva Chapter! Students also gave 20-minute presentations on everything from polar fish communities in northern Alaska to Lamprey parasitism of Redband Trout in Klamath Lake. Lastly, the subunit got to take a quick trip to Portland where we got to explore the cities beautiful views and great food! A huge thank you to Britta Baechler, the student representative for the Western Division AFS, for organizing this event. Also, thank you to the members and executive committee of the California-Nevada Chapter of the American Fisheries Society for helping to fund both the Western Division Student Colloquium and the travel of Cal-Neva students to Oregon! We wouldn't have been able to do it without your generous support!
This slideshow requires JavaScript.
Salmon Snorkel 2018
On November 10th, 2018 the Sacramento-Davis AFS went snorkeling in American River alongside GIANT spawning Chinook Salmon! The day started with a quick tour of the Nimbus Hatchery, which had lots of salmon making their way up the fish ladder into the hatchery to be processed. We then made our way to the shore where our chase boat, captained by Matt and Karin Young, was deployed and members got in the cold, refreshing water. During our two-mile snorkel downstream we saw salmon building redds, salmon carcasses, crayfish, and more! The day ended with a great meal at Urban Roots BBQ where everyone excitedly shared what they saw in the water. Special shoutout to Matt and Karin Young for all of their help and experience, thank you!
This slideshow requires JavaScript.
Fall Quarter 2018 Meeting
This meeting, held on Monday, October 1st at Woodstock's Pizza, was a huge success! We met lots of new people, got to meet the new officers, and planned lots of great events for the upcoming year! Some upcoming events planned include Carpe Carpio (Oct. 26), Western Division Student Colloquium (Nov. 15-18), Salmon Snorkeling (Nov. 10), and a Graduate School Panel (Nov. 21). Emails regarding each event will be sent out via our listserv as they approach so be sure to join our email list. Thank you for everyone who made this meeting such a success, we are excited to see you again soon! PC: Jim Hobbs
River Float & Camping Trip
From June 22nd to June 24th the AFS Sacramento-Davis student subunit co-hosted this float trip along with the Santa Cruz/Monterey Bay and Humboldt State student subunits right in our backyard on the American River! This was especially exciting as it was the first tri-subunit event (in recent history at least) that has brought multiple California subunits together outside of a conference setting. Everyone enjoyed a great time floating down the busy American River and some got to share fun stories as we camped beside Folsom Lake!
This slideshow requires JavaScript.
RIVER CLEAN UP
On Sunday, June 3rd the Sac-Davis sub-unit cleaned up a stretch of the American River near Sac State University. Thanks to those that came and braved the heat to help improve our local watershed! We hope in the future to incorporate more events in the Sacramento area to encourage students at Sac State to join in on our sub-unit activities!
This slideshow requires JavaScript.
———————————————————————————————————————-
CAREER PANEL/BLAZE PIZZA FUNDRAISER 
On Thursday, May 24th at Blaze Pizza we had a variety of different professionals from various career paths talking about the elements of their different careers and how AFS has helped them advance as professionals. Thanks to all the students who came to learn more about career possibilities and to the panelists who volunteered their time to share their insight and answer questions! Additionally, pizza purchases during the panel helped raise funds for the Davis-Sac Subunit!
———————————————————————————————————————-
STICKER/COFFEE MUG FUNDRAISER
We are excited to announce that we have some awesome merchandise for sale: super durable 3″ stickers as well as coffee mugs. Stickers are $3 a piece and mugs are $10. They are in production and we are taking orders! If you are interested, let us know by emailing afs.davis.sacramento@gmail.com with your name, email, and what quantity of which items you would like. All profits will go towards future subunit events and activities!
———————————————————————————————————————-
SPRING QUARTER MEETING & FISHING
On Friday, May 4th, the AFS Sac-Davis Subunit gathered at Lake Spafford to discuss our upcoming events as well as go fishing! We caught several common arboretum waterway fishes including black bullhead (catfish), fathead minnows, green sunfish, and a California native species- Sacramento blackfish! Thanks to those who came, including several talented anglers!
This slideshow requires JavaScript.
———————————————————————————————————————-
PICNIC DAY LIVE FISH DISPLAY
On Saturday, April 21st our subunit shared our live fish display, a fan-favorite at UC Davis's open house event! The AFS Student Sub-Unit has been putting on our live fish display for several years now and we see at least a thousand interested families, students, and community members come through our display each year! We had a fantastic time teaching interested visitors of all ages about the fishes of our local Sacramento-San Joaquin Delta. Thanks to all who helped make this event a great one!
This slideshow requires JavaScript.
———————————————————————————————————————-
INTERAGENCY ECOLOGICAL PROGRAM ANNUAL WORKSHOP
We had our current Vice-President, former President, as well as several affiliated UC Davis graduate students, attend and present at the Interagency Ecological Program (IEP) Annual Workshop in Folsom, held from March 6th – 8th. The IEP is a collection of state and federal agencies conducting cooperative ecological research in the Bay-Delta system and their annual workshop provides researchers from these agencies, as well as those working on similar pursuits, the opportunity to share ideas and findings. Our Vice-President, Nicole Aha, was awarded second-place in the student/early career competition for her presentation on "Accelerated Growth of Juvenile Salmon in a Managed Wetland Relative to Historic and Leveed Sloughs in Suisun Marsh."
Left: Nicole Aha and fellow UCD graduate student, Miranda Tilock, accepting their presentation awards. Right: Rachel Johnson (NOAA), Miranda Tilcock, Denise Colombano (former Sub-Unit President), and Nicole Aha representing women in fisheries at IEP.
———————————————————————————————————————-
AFS CAL-NEVA ANNUAL CHAPTER MEETING
Many of our sub-unit members traveled down to San Luis Obispo for the 2018 AFS Cal-Neva Chapter Meeting from February 28nd – March 2nd. Our subunit arrived a day early to help with set up and registration details and each member volunteered a minimum of six hours during the conference. We had a fantastic time engaging with our parent chapter and other AFS student subunits from Santa Cruz and Humboldt. Two of our members, Sean Luis and David Hernandez, presented compelling posters and two others, Nicole Aha and Arthur Barros, presented their first oral presentations. The conference was a great experience and provided valuable networking opportunities, as well as a student-mentor luncheon. Please consider joining us next year when the Cal-Neva Chapter will host the AFS National Meeting in Reno, NV!
————————————————————————————————————————
CENTER FOR WATERSHED SCIENCES TOUR AND WINTER QUARTER MEETING
Friday, March 23rd @ 5:30 PM.
Thanks to those who joined us for a tour of the Center for Watershed Sciences! Anyone interested in learning more about this center as well as undergraduate internship opportunities, please contact us.
————————————————————————————————————————
SAUSALITO BAY MODEL VISIT
Thank you to all who joined us on January 27th for a self-guided tour of the fantastic US Army Corps of Engineers Bay Model in Sausalito! The model provides a unique, tangible way to view and understand our San Francisco Bay Estuary and learn more about its past, present, and future. Click here to learn more about the model!
The Bay Model is free and open to the public. If you missed our tour and are interested in exploring on your own, you can find the model located at:
This slideshow requires JavaScript.
—————————————————————————————————————————————–
FALL MEETING
Hi everyone! Just a quick reminder that this Thursday (11/3) we will be having our AFS Sac-Davis Subunit fall meeting. We will be discussing upcoming events & the annual Cal-Neva chapter meeting followed by a viewing of the documentary "Salmon Confidential." Snacks will be provided. Join us at 6pm in 220 Veihmeyer Hall on the UCD campus. Hope to see you there!
————————————————————————————————————————
NIMBUS FISH HATCHERY TOUR
Thank everyone that attended the tour of the Nimbus Fish Hatchery on November 5th. We had a really great turnout, and there were lots of interesting questions being asked! We couldn't ask for a better event experience than that, thank you for participating and being engaged. If anyone would like to get in touch with our tour guide Amanda Cranford (NOAA Fisheries), please contact us at: afs.davis.sacramento@gmail.com.
————————————————————————————————————————
AMERICAN FISHERIES SOCIETY DAVIS STUDENT SUBUNIT – ACTIV
ITIES 2016-2017
Student Art Contest – Get your designs started!
CAL-NEVA's 51st Annual Meeting 
April 5-7, 2017 in Eureka, CA
Find out more information, submit your abstract and register for the meeting at our Chapter' new website.
http://units.fisheries.org/cal-neva/events/annual-meeting/
October 13th: Third Annual Carpe Carpio
Lake Spafford in the UC Davis Arboretum, 12-3pm
October 26th: Fall Quarter Meeting: Introduction, Speakers, Membership, etc.
November 5th: City of Winters Salmon Festival